The London School of Horticulture was founded in 2022 to provide classroom-based gardening and horticulture courses outside the traditional college environment.  Face-to-face classes are taught in friendly settings in London.  Eventually a version of every course will also be taught online for students outside London or unable to attend one of our centres.
Both face-to-face and online courses are taught in small groups in real time with experienced and qualified tutors.
Courses cater for students with all levels of experience from enthusiastic beginner gardeners, amateurs and career changers to seasoned gardeners and professionals.
We offer extended part-time Certificate courses as well as short courses and workshops, with subjects covered ranging from knowing, designing and planting your own garden or those of your clients, to sustainable gardening, fruit and vegetable growing and wildflower meadow planting. 
We are a new college and courses are being developed with demand, kicking off with courses and workshops close to our home base in SE London.  We hope to grow to offer really useful, enjoyable courses to all sorts of people, whatever their stage in their gardening journey.  Watch this space!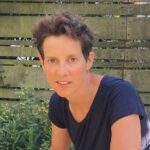 Dr Mima Taylor
director of studies
Dr Mima Taylor is an experienced Kew-trained horticulturist, botanist, ecologist and landscape consultant.  During her time at the Royal Botanic Gardens, Kew, she won design awards and then went on to work for Landscape Designer Christopher Bradley Hole, with whom she won three consecutive gold medals at the Chelsea Flower Show in 2004, 2005 and 2006 as the chief planting adviser.  Dr Taylor has a passion for horticultural education and following a Phd in naturalistic planting in Parks has gained extensive experience of teaching horticulture to a wide range of ages and abilities, from school gardening with children to teaching adults garden design or preparing them for RHS examinations.  In recent years she has written her own courses on Sustainable Landscape Design which she teaches at the Royal Botanic Gardens, Kew. She cofounded the London School of Horticulture to bring gardening knowledge to as wide a range of the community as possible and extend and enhance the reach of horticultural education in London.
Rosendale Allotments Community Building
Rosendale Allotments Community Building is a modern, peaceful classroom between Herne Hill and West Dulwich with inspiring views of the allotments.  There is a cafe down the road and Herne Hill is 10 mins walk away.
The Garden Room at Telegraph Hill Centre
The Garden Room is a light, airy classroom with windows overlooking the garden, in the Telegraph Hill Centre, a community space near Pepys Road, SE14, with a lovely cafe attached.